The first half of 2022 has been a strong seller's market and buyers are willing to do more work to fix a home they purchase, but there are several improvements you can do that could produce a big return on your investment.   According to the 2022 Remodeling Impact Report from the National Association of Realtors®, the top three ROI interior improvements include refinishing hardwood floors, adding hardwood floors and upgrading the home's insulation.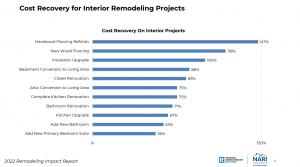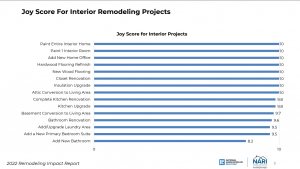 "The "Joy Score" measures value in a whole new way, determining which renovations make people the happiest. More money in your pocket notwithstanding, some renovations may put an even bigger smile on your face." – National Association of Realtors®
The Joy Score is on a level of 1 to 10 with 10 being the happiest.  The NAR® poll shows even smaller projects such a throwing a new coat of paint on the walls can increase your Joy Score.  It may even add a few more dollars to potential offers.  Some of the improvements that hit a 10 on the Joy Score include painting the entire interior of the home, hardwood flooring refinish and adding a new home office.  There are several duplicates between the "Joy Score" and the "Cost Recovery" lists.
It boils down to how big or small of a task you are willing take on to potentially bring in a higher sale price.
Read the Original Article Here: Should You Update Your House Before Selling? Ask a Real Estate Professional. [INFOGRAPHIC]
Additional Information:  https://cdn.nar.realtor/sites/default/files/documents/2022-remodeling-impact-04-06-2022.pdf